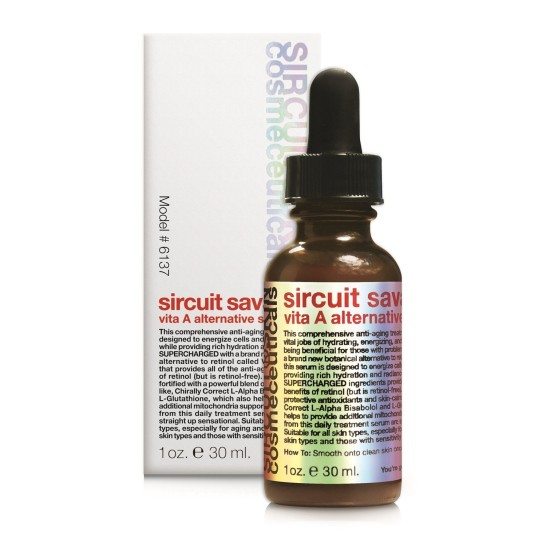 $80.00
Sircuit Savant vita A alternative serum is designed to energize cells and tighten skin while providing rich hydration and radiance. This comprehensive anti-aging treatment serum handles all of the vital jobs of hydrating, energizing, and smoothing, while also being beneficial for those with problem skin. Formulated with a brand new botanical alternative to retinol called Vita-a-like, this powerful blend of SUPERCHARGED ingredients provides all of the anti-aging benefits of retinol (but is retinol-free). Vita-a-like was specifically selected for its high tolerance and stability, anti-aging, and anti-wrinkle benefits, while uniquely supporting cell renewal, by promoting the growth of healthy young cells. This multi-tasking serum is also fortified with the protective antioxidants and skin-calming benefits of Chirally Correct L-Alpha Bisabolol and L-Glutathione, which also help to provide additional mitochondria support. The results from this daily treatment serum are just straight up sensational.
Naturally derived Vita-A-LikeTM reduces risk of irritation often associated with retinol.
Encourages the natural process of healing and cell renewal.
Smoothes and improves texture and condition of dull, uneven skin.
Helps reduce appearance of fine lines, wrinkles, blemishes and hyper-pigmentation.
Increases hydration and firmness.
Fortified with protective antioxidant and skin-calming benefits.